Discover Your Core Values
February 12, 2021 @ 7:30 am

-

9:00 am
Thank you to those who joined our January, meeting, "Like it or Hate it, Zoom is Here to Stay" with Jennifer Phelps, CEO of Jennifer Phelps: Organize. Design. Reinvent!
February Breakfast Meeting: Discover Your Core Values
Friday, February 12th, 7:30-9:00 A.M.
Please join us for a presentation from Catherine Alonzo, CEO and Founding Partner of Javelina Consulting, LLC.
There will be no charge to participate in the program, but to help offset the chapter's loss of canceling our in-person programming, we'll be accepting donations of any size to our Locally Grown Campaign, which directly supports our scholarship program. Donations can be made on the SoAZ AFP website here.
Register for this event below.
Discover Your Core Values
Knowing your core values and using them in your leadership and social change work is a core skill that impactful leaders harness and develop, and yet as leaders we rarely have the opportunity to truly laser in on what our core values are and the behaviors that extend from them in everyday life. In this interactive session, we will go through a series of activities designed to help you to explore the core values that guide your life and decisions. The secret is that you have them already but identifying and articulating them will take your leadership to a whole new level.
Please consider the following questions before the presentation:
Think of a pivotal moment in your life that for whatever reason changed everything, whether it was your life's trajectory or how you see the world.
Think of a personal decision or choice you made for yourself in the past 18 months.
Think of a movie, book or TV show you watched or read in the past that you had a very strong emotional reaction to, from being in floods of tears to hysterical laughter
About our Speaker:

Catherine Alonzo
CEO and Founding Partner
Javelina Consulting, LLC
https://javelina.co/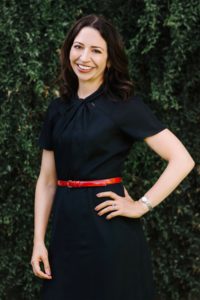 Catherine Alonzo helps organizations and individuals create change in their communities. She is CEO and founding partner of Javelina, a company that is advancing equality and human dignity through social, political and economic change. Javelina helps their clients realize their vision of change in the world by marrying together cutting-edge strategies from the worlds of marketing and political campaigns.
Catherine has been integral in growing Javelina to be one the Phoenix Valley's pre-eminent marketing and campaign agencies. She combines her political background (having served on the teams that raised the Arizona minimum wage in 2016, and elected Phoenix Mayor Greg Stanton and Tempe Mayor Mark Mitchell) with her passion for storytelling in the digital age.
Catherine was named the Athena Young Professional Recipient by the Greater Phoenix Chamber of Commerce in 2016, and has been recognized for her business leadership by Arizona Business Magazine, Arizona Big Media, and the Phoenix Business Journal.
She is originally from the UK and lives happily in Phoenix with her husband Ruben and their bunnies.
Our February program was generously sponsored by Javelina Consulting, LLC
Here is the zoom link for the February meeting:
AFP Southern Arizona is inviting you to a scheduled Zoom meeting.
Topic: AFP February Breakfast Member Meeting
Time: Feb 12, 2021 07:30 AM Arizona
Join Zoom Meeting
https://us02web.zoom.us/j/84664873053
Meeting ID: 846 6487 3053
Related Events